Post by grayn on Jun 1, 2020 16:01:33 GMT
DUESENBERG FULLERTON ELITE
Got this beauty today, from Sound Affects. Pre-owned but in immaculate condition.
This is the 3rd Duesey that I have owned. The other 2 were a Paloma and an Alliance Joe Walsh model.
The Paloma was in red sparkle, which I couldn't get used to and the Joe Walsh felt like the body was too small.
Both were superb guitars however and I was keen to find the right Duesenberg for me.
I also wanted to get another semi, as my main guitar and this one seemed far too good to let pass.
It is semi-hollow with a sustain block and could be looked at as Duesenbergs version of an ES335.
But I think it looks more like a Hofner Verithin, from the front.
Except, unlike the standard 335 and Verithin, the Fullerton Elite comes with a fantastic Tremolo system.
The first thing I noticed was that it seemed relatively light weight.
I remember my Gibbo 335 as being a fair bit heavier and more cumbersome, though to be fair it had a wonderful neck.
The Fullerton still feels reasonably substantial but for it's dimensions, it sits and hangs very nicely, when playing.
The Catalina Blue colour seems darker than in photographs, which I really like.
The finish has a very subtle, metallic sparkle too, which adds to the looks.
I guess Duesenberg's, sort of Art Deco, styling will not be to everyones taste but I, in the main, like it.
I've never been keen on their scratchplates but at least this one isn't in gold sparkle, just a nice pearly white.
The overall build and finishing quality is excellent, as have all the Dueseys I have owned.
The one peice maple neck has a 12 inch radius fingerboard and a very playable D profile.
I really like the fret inlays, and the whole guitar came very nicely set up, though I'll put heavier strings on it.
The pickups are as used on other models, being a Domino P90 at the neck and a Grand Vintage Humbucker, at the bridge.
I thought before I got it, that I'd prefer these 2 the other way around but now I'm not so sure.
The HB has a lovely, vintage tone, somewhere between a PAF and a Filtertron and played with light crunch, really sings.
Lots of clarity and punchy definition makes it work really well, alone and in conjunction with the P90.
That P90 has lots of body and a well rounded tone, that still has some single coil bite.
I'd love to hear the P90 in the bridge position but I'd hate to lose that HB.
Overall then, a great sounding guitar, with that airy transparency you often get with a semi acoustic.
I've said it before but Duesenberg make a fantastic tremolo.
It may look like a Bigsby but it is just so much more, being as smooth as can be, with a great pitch range, up and down.
To my mind, the Bigsby is the Corvette; cool, vintage and set up right, loads of fun.
The Duesey trem is the BMW; it's just in another league of performance and sophistication.
As soon as I put a strap on it and hung it on me, I knew this guitar would suit me just fine.
And amped up, it is as sweet as can be. Gutsy but a real sweet toned guitar.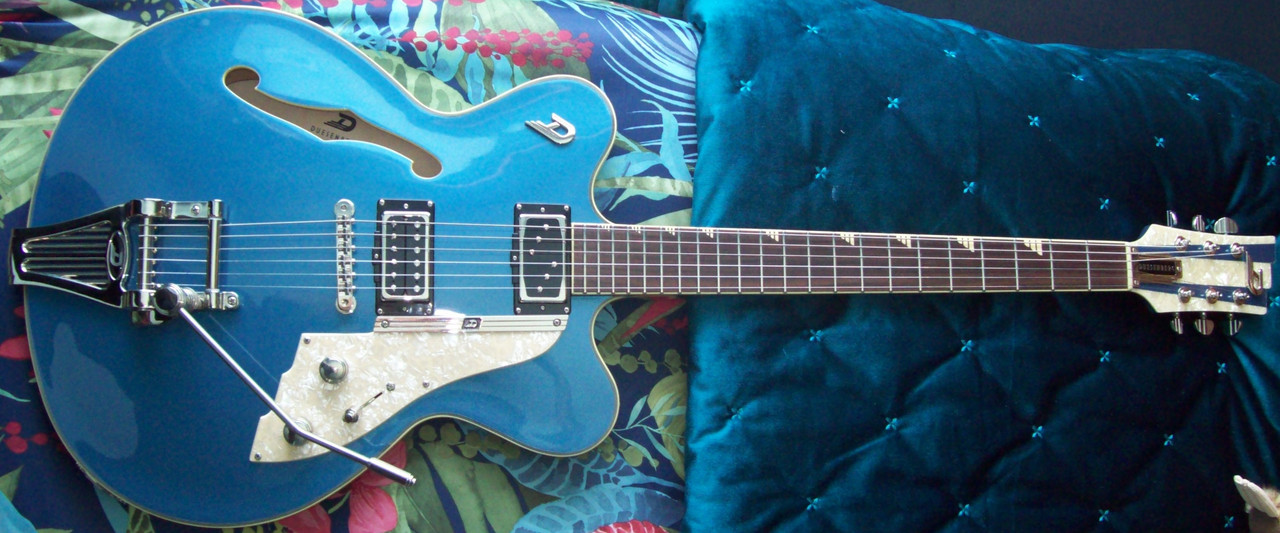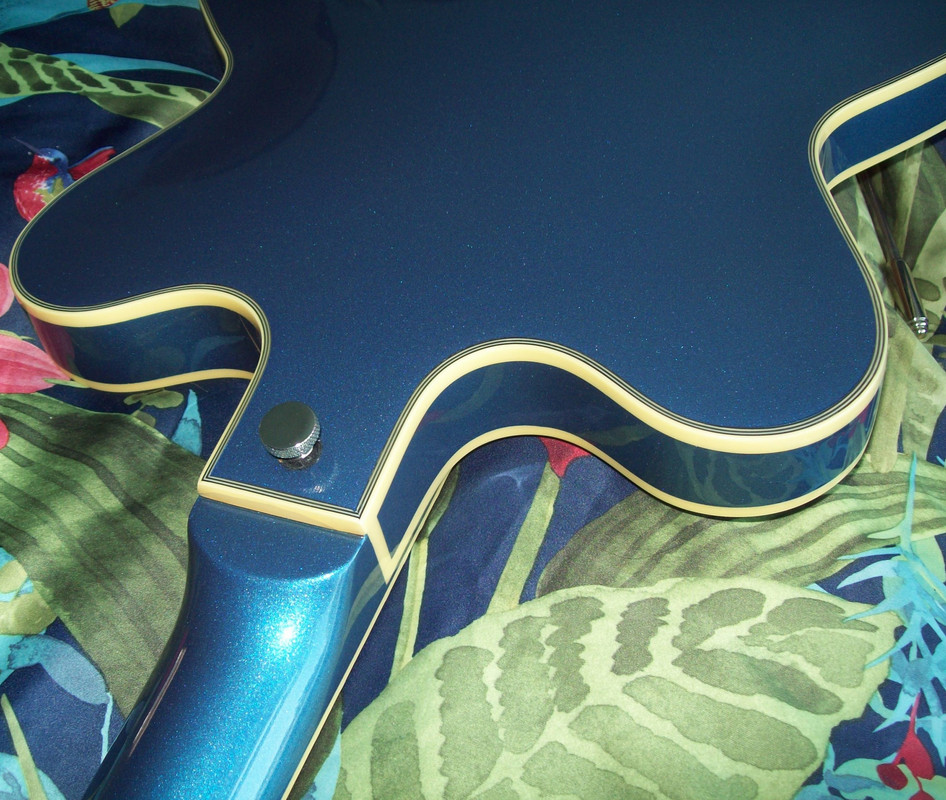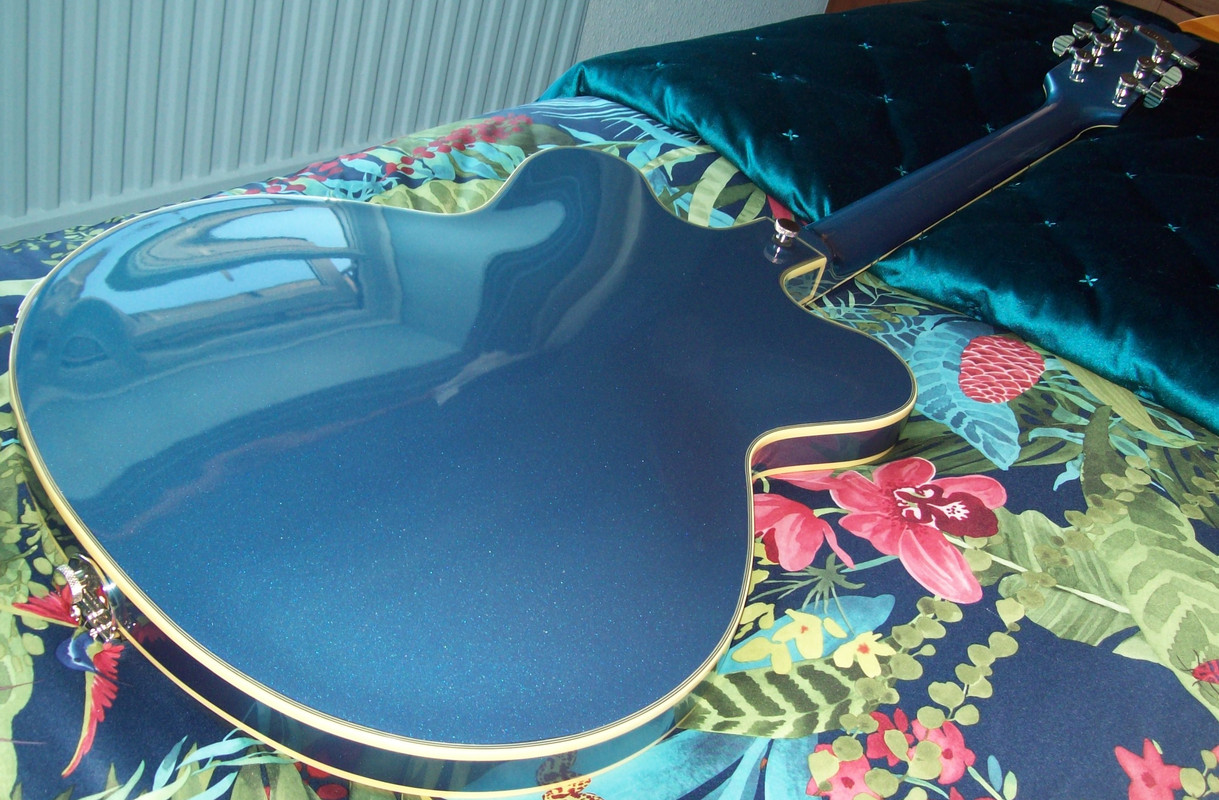 ROLAND BLUES CUBE HOT
Just got this combo from Sound Affects, it was ex-display, so got a very good price.
No discernable marks, though the "b" at the end of Reverb, on the control panel, is a little faded.
The Blues Cube series of amps has been around a while now and they are Roland's attempt to do solid state versions
of some Fender style combos and the B.C. Hot is close in style and sound to the Fender Blues Junior.
It is pretty much agreed that solid state and digital amps can knock out a fairly good clean and heavily overdriven
sound but find that light, crunchy break up, that valve amps can produce, hard to re-produce.
But I have to say, that to my ears, this little 30 watt, 1X12 combo does reproduce it and bloody well, too.
Unlike the others in the Blues Cube series, the Hot is a single channel amp.
And it comes with a lovely digital, spring reverb, which is footswitchable.
As are the Boost and Tone switches, that can add even more overdrive (boost) and top end (tone).
I remember, a year or 2 ago, trying out one of the larger Blues Cube combos. Artist or Stage?
Anyway, it sounded great but I struggled to get a really clean sound out of it.
This Hot however, does a very nice Fender style clean, as well as that gorgeous crunch tone.
I haven't pushed the overdrive to it's limits yet but doubt it could do heavy metal style distortion.
I got this amp at the same time as my newly acquired Duesenberg Fullerton Elite guitar.
It has to be said that they could have been made for each other.
The Hot really captures the Fullerton's dynamics so well and gives that light overdriven crunch that promtes the guitar's
singing qualities.
This little combo is surprisingly loud if needed but unlike the Blues Junior, it can give you superb crunch,
at any volume. For it has a 4-way Power Control (0.5 W, 5 W, 15 W, 30 W) allowing for cranked-up tones at any volume.
And to my surprise, even half a watt can be quite pokey.
I've had 2 Blues Juniors, over the last few years and as much as I like them, this Roland is more useful to me.