Post by curmudgeon on Jun 13, 2021 10:39:01 GMT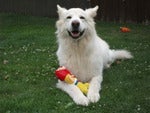 I have just had to sell all my electric gear to ongoing and deteriorating problems with my hearing.....getting hearing aids fitted in a couple of weeks in both ears. So, I am starting to look for an acoustic and other than the usual suspects like Lowden, Martin, Gibson etc I realise I am not that familiar with many of the smaller or less well-known builders out there. I often see really interesting acoustics for sale on the forum that I have never heard of before. So, I thought I would see if anyone might be able to point me in the right direction of a builder or brand that they have stumbled upon.
I guess I'm looking for a dread, or possibly a OOO, as I really like a good bass response and crisp'ish trebles. I have have acoustics with spruce and cedar tops and I guess my preference would be for spruce. In terms of back and sides I have had cherry, mahogany and rosewood and I think rosewood is a clear favourite but did have Froggy Bottom dread back in the 90s with mahogany/spruce and that was just extraordinary. So, have an open mind in terms of woods and to an extent body size/shape too.
In terms of budget I also have an open mind although can't go crazy. I would prefer to keep it under £2000 but would probably spend more for the right guitar.
Thanks in advance!

Guy
Hi Guy, sorry to hear about your hearing. I gave up playing drums decades ago because the noise levels were getting me down. Firstly, I'd say don't be too fussy about the brands. More importantly is to focus on the size shape of guitar that will best suit your hands and where you intend to play.

You will know the fretboard pretty well but you don't/can't play an acoustic like you do an electric, so you are effectively starting from (almost scratch.

Dreads are fine and great for performing and singing and in a combo - I have three Collings for that) but they tend to be mostly a rhythm instrument, same applies for jumbos and super jumbos(SJ200 etc) and far from ideal for playing seated.

I suggest that you also check out the latest offerings from Eastman which are remarkably good - As a Collings, Martin and Santa Cruz player, I am delighted with my E20-p (size "0" and E40-00) and the also do OMs although they are actually 000 being shorter scale.

The OM/000 style is the next size down and fine for many. (I only use 12 fret guitars because thee fretboards are generally wider which suits my old hands).

One word of warning I recently got my third pair of hearing aids. I've had expensive private ones and two NHS sets and the sound of acoustic guitars with them in are ...weird. you may well get a strange chorus and fast tremolo effect - in any case your guitar/s will sound like acoustics through a cheap pickup and acoustic amp. but will still sound rewarding without the aids.

I hope you don't have this experience as have I but manage your expectations.

I hope this helps. Andy