Post by ocarolan on Jul 24, 2013 23:05:34 GMT
Acoustic Soundboard Meet the Maker Interview
RICHARD MEYRICK
Richard Meyrick is a Luthier based just outside Usk in South Wales. He builds handmade acoustic guitars and custom made neck and bodies for electric guitars. He also repairs, sets up and refinishes stringed instruments. After completing his A-level examinations he enrolled at London Metropolitan University (formerly the London School of Furniture) where many of Britain's guitar makers learned their trade. After graduating with a first class degree in musical instrument technology he left the city and returned home to the more relaxed atmosphere of the Welsh marches where he has a small workshop in rural Monmouthshire.
Keith:
Richard, how long have you been making instruments, and what spurred you into making a start?
Rich:
I made my first guitar when I was a teenager, about 15 I think, I was desperate to have a Les Paul electric guitar so I could rock out like Jimmy Page. Of course at that age I couldn't afford the real deal, no amount of mowing the neighbours lawns would have got me a Gibson!
I was bitten by the guitar making bug almost immediately and went to university to learn how to make guitars properly where I graduated with a first in 2007. I set up as a business the following year, so I have been making instruments for 13 years in total and five as a business.
(Richard's workshop looks a lot tidier than he keeps telling me it is!)
Keith:
Did you have any previous experience with woodworking?
Rich:
Very little, I worked for a summer as a carpenters assistant on a building site, and then a while as a joiner machining wood and making cupboard doors for kitchens but I've always played around with wood; making go carts, tree houses, the usual. I even tried to make a full scale biplane in my mums garden!
Keith:
How did your first instrument turn out?
Rich:
That first electric guitar was pretty terrible! It worked but nothing was in tune and the strings were so high it made my fingers bleed, I was so proud of it though and showed it off whenever I could.
Keith:
How have your instruments developed into your current range since then?
Rich:
I started by taking standard guitar models, for example OM's, OOO's, Dreadnaughts and refining them to make them sound how I wanted them to. From this I have developed a few of my own models.
My Oxwich parlour, for example, has its roots in the Washburn family. I developed an altered bracing for the soundboard, a slimmer neck and a deeper body to improve its responsiveness, tonal range and playability, I have taken parts of all these guitars and my lessons learned from making them and playing them and am developing new models in a more modern theme, the first one should be ready in a month or so, it will be a small jumbo size with a 13 fret neck joint. The thinking behind a 13th fret neck joint is that it places the bridge in a sweet spot on the soundboard but keeping the neck long enough to do all the fiddly bits up the fingerboard.
Keith:
Is there a Richard Meyrick style / philosophy running through your instruments?
Rich:
Maybe not so much a style but an ethos. Aesthetically my guitars can be quite varied due to the fact that they are almost all bespoke commissions, but I suppose most of my models owe a debt to the guitars of the 20's and 30's.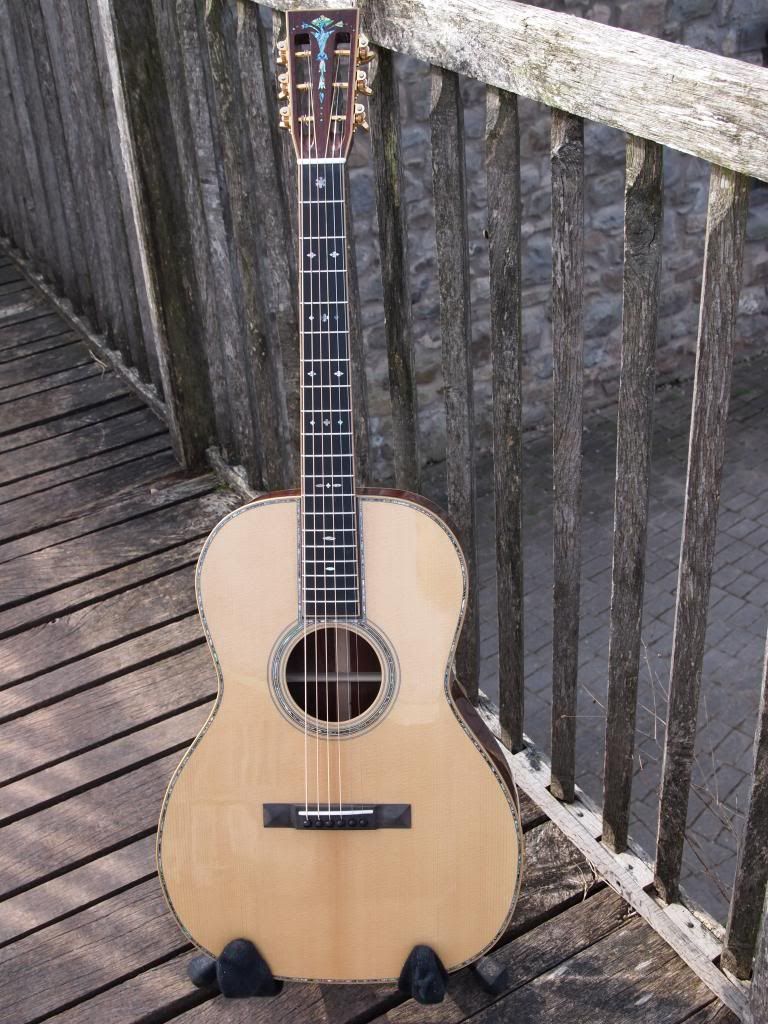 I find that the personality of a handmade guitar is more down to the person who made it than just the materials it is made of.
I initially started making guitars that were almost all 12 fret, small body acoustics that were built for fingerpicking, ragtime and blues but I have recently taken on commissions that are much more modern in their materials and styling. I have my varied clientele to thank for this. Here's a "Celtic" themed 12-fret Parlour I built for a customer recently -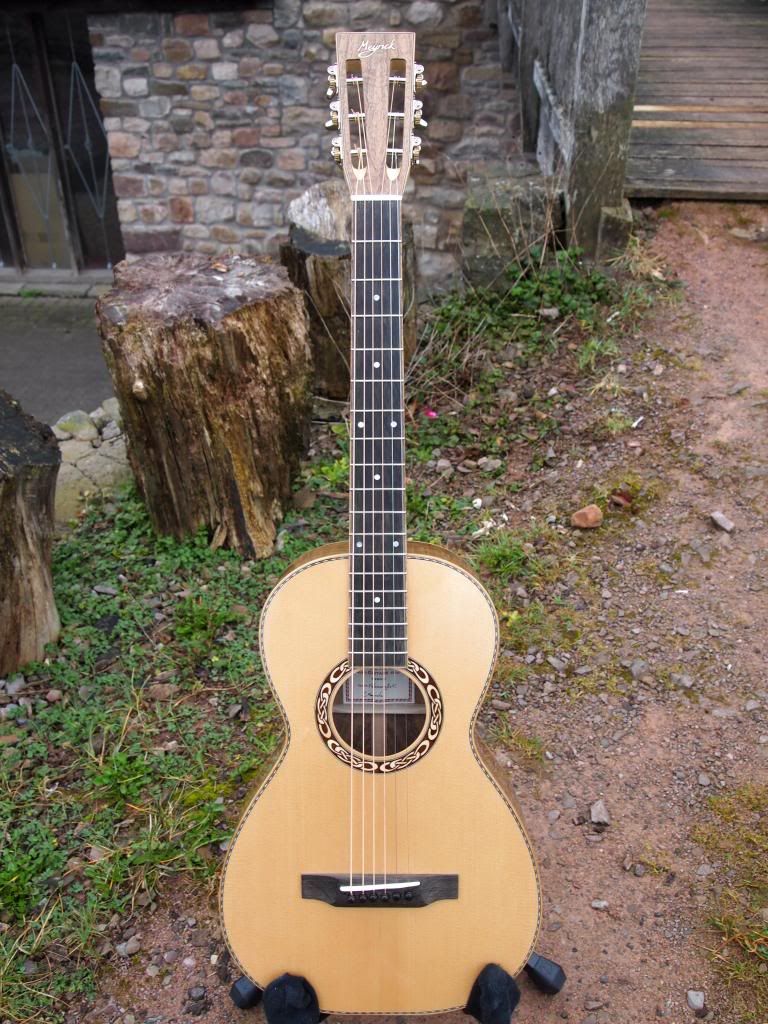 Keith:
Do you have any particular woods/wood combinations you enjoy working with?
Rich:
Recently I've been using a lot of Walnut for the back and sides of my Oxwich parlour guitars, coupled with Spruce and Cedar, the tone of which I find work very well together.
I am enjoying discovering all our native woods that can be used for guitar making. As well as Walnut, I've had success with Oak, Sycamore, Yew and Bog Oak. here's a cedar/walnut 12 fret parlour -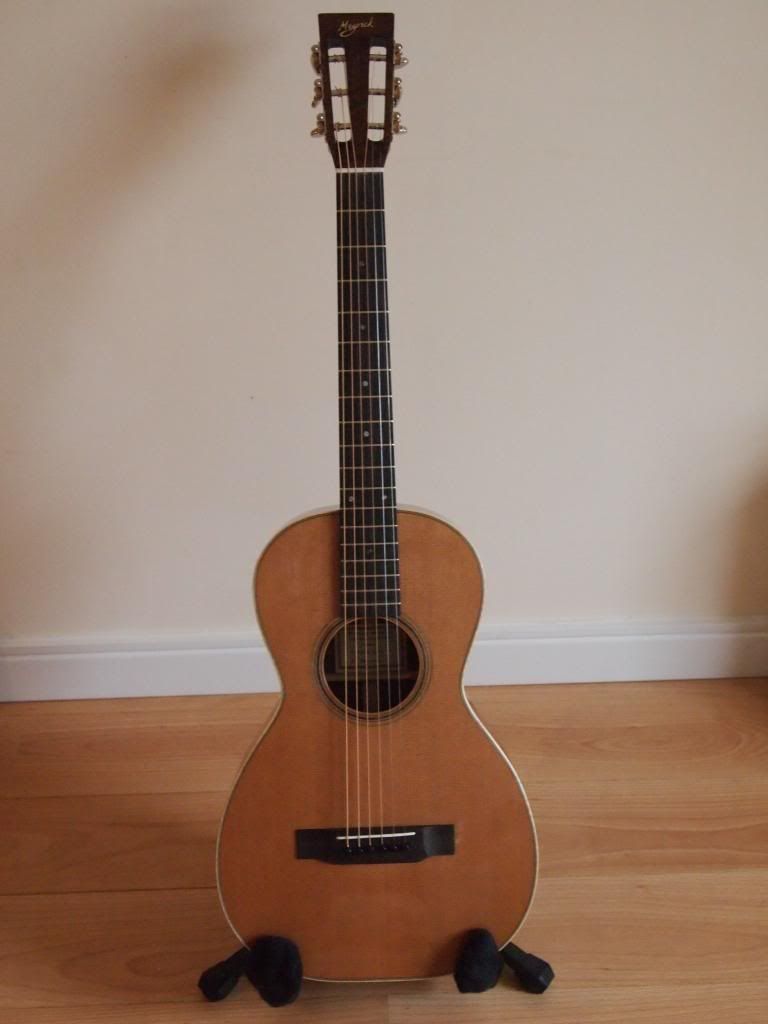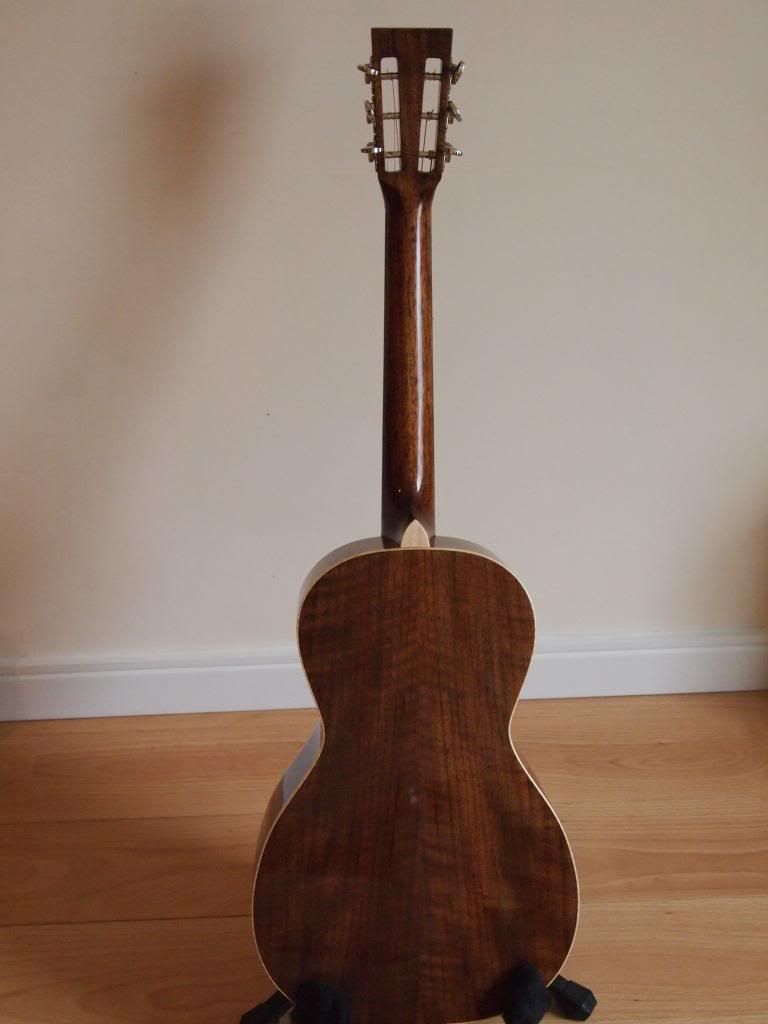 I would like to find a suitable soundboard timber from this country, but all the softwood we have grows much too fast to be useful. Having said that, I bet there is a Spruce tree grown high up on a north facing mountain in the Highlands that would be perfect. I just have to find it!
Keith:
Do you have a desired "sound" in mind for the finished product when beginning a build, and how do you set about achieving this?
Rich:
It's all about what the client wants as almost every guitar I build is made to order, but saying this there is always the perfect sound I'm aiming to achieve; good tonal range, strong harmonics, volume; all those things you look for in a guitar.
Keith:
Most builders play guitar to some degree. Are you a keen player? What kinds of things do you enjoy playing, and in what ways do your playing preferences influence your instruments?
Rich:
Yes, I play and I suppose the music I enjoy playing and listening to has influenced the guitars I have developed. I enjoy listening to and playing the music of Nick Drake, Crosby Stills and Nash, Blues and I also dabble with Jazz, but don't seem to get too far. As a predominantly fingerpicking player, I tend to build my guitars fairly lightly to get a good response from light input.
Keith:
Your collaboration with Paul Brett on the Thumb Buster recently was very interesting. How did that come about?
Rich:
That guitar was Paul's brain child. He had played a harp guitar from the 19th Century over in America and liked the principle of playing the bass strings with the thumb of his left hand, an idea that hadn't been built for at least 100 years. So he got in touch with me as a Welshman keen on using Welsh woods. After much head scratching, scores of emails and designing, we came up with the prototype that Paul took to the London Acoustic Guitar Show last year.
The reaction to it was very positive, lots of people had a go but only a few could make head or tails of it but to a person they all did better with it than I could!
The guitar was a real challenge for me but it turned out very well. The real revelation of the project, for me at least, was that oak is great for back an side wood, a strong bass, sparkling mids and trebles and the grain is very interesting, not just for dining tables!
Keith:
Do you have any "must-build-one-of-those" plans in prospect?
Rich:
I have lots of ideas for guitars that I would love to build, some of which get started but are pushed to the back of the pile whenever a commission comes in. I have been making a 12 string Oxwich, which is my parlour guitar for two years now. I am very lucky in that I get asked to make a real variety of guitars; acoustics, archtops, resonators so I am never stuck in a rut creatively. Here's a small Terz guitar I built recently, designed to be tuned three frets higher than standard pitch -
Keith:
Richard, I know that you are extremely busy at the moment with commissions and repairs, so thank you so much for taking the time to tell us a little about yourself and your work. I also know that during the compilation of this interview you managed to find the time to get married - so congratulations to you and your wife!

I'm sure members will enjoy reading your interview and some may have questions, so I'll start a separate thread especially for that purpose. www.acousticsoundboard.co.uk/thread/1262/mtm-richard-meyrick-comments

They say a picture paints a thousand words, so I'll let you have the last thousand words!
June-July 2013