Post by Phil Taylor on Aug 14, 2018 14:35:40 GMT
...... as chosen by our very own Martin and ocarolan who said:-
"Album of the Year: 'One Year On' by Phil Taylor. This was a tough one, as I am loving Martin Simpson's 'Trails & Tribulations' and just got Riverman's 'Long Story Short', but I found Phil's CD to be immensely re-playable and so relaxing".
"Album of the Year - 'One Year On' by Phil Taylor. Possibly surprisingly I don't listen to very much solo acoustic guitar music. But I have listened to this CD a great many times - so seemingly effortlessly musicianly".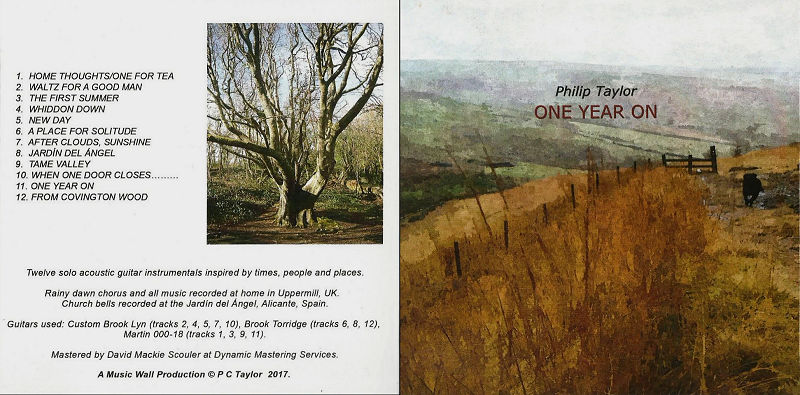 Here's the cheesy marketing bit that would be on a website if I had one
Other satisfied buyers of this CD from around the globe, including many Acoustic Soundboard members have said (selection):-
"We are both absolutely bowled over by the CD. I know what a very good player and composer indeed you are from the forum, but the quality of this recording is breathtaking".
"I've frequently marvelled at what a fine technician you are, and to be able to combine this skill with the depth of feeling you get into your playing is a very rare thing".
"I own a lot of CD's of acoustic guitar music so I think I can claim that I know what I'm talking about. I'm listening to your CD now, ripped in flac-quality, over my beloved Bose headphones. Phil, I have absolutely no idea how you did it, but One Year On is among the best of them all. Not only in terms of musical aspects, but also in terms of arrangement and recording."
"I just finished listening to One Year On in its entirety. It is simply brilliant! The compositions, performance and recording are all first-rate! Congratulations on such a fine and wonderful accomplishment".
"The guitar playing is simply excellent. There's a consistency to the performances which comes across, odd as it may seem to you, as confidence in the performer. Totally professional. Your compositions have melody, mood, tension and resolution, repetition and variation. You have a natural ear for what makes music good to listen to. None of the pieces overstay their welcome, or tire the ear. They're guitar-cliché free".
"Philip Taylor's new album One Year On is brilliant. Twelve superbly crafted compositions for solo guitar, melodies that sing, colorful harmonies and clean, precise performances. I imagine that this is what time in the English countryside would sound like. Just beautiful..."

I have 23 of these CD's left gathering dust so for forum members only the special price is £6 with free postage and packing to the UK. It will come complete with comprehensive album notes.
Cheers
Phil