Post by lars on Feb 9, 2020 17:32:27 GMT
Now that I've finished the two mandolins, it's time to go on with the next project. Although I've built thirteen stringed instruments so far (one mountain dulcimer and twelve instruments from the mandolin family), I've never ever built a guitar. So it's about time!
I've got two different guitar models in the pipeline but I'll begin with one. First out is a Grand Concert or 00 sized guitar which will be followed by a larger guitar, about the size and shape of a Grand Auditorium but with some similarities to a Small Jumbo. The two guitars will share many features and be similar in design.
Here is the outline and bracing pattern: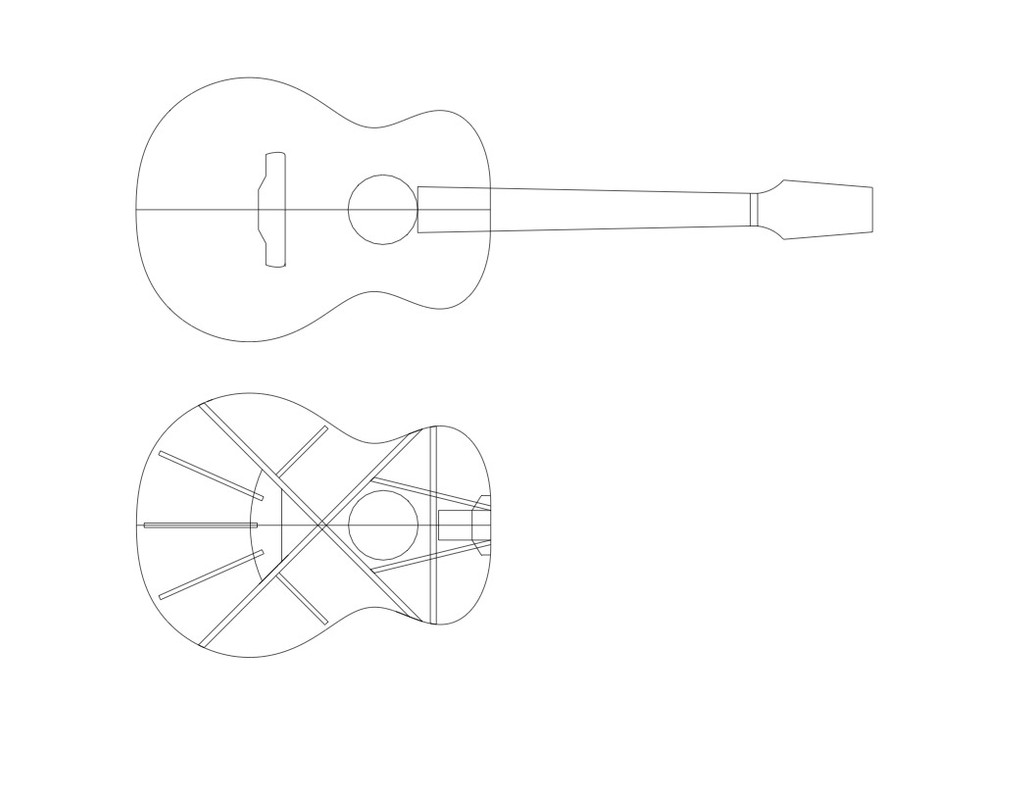 It's kind of funny - I've spent so much time thinking about design and construction and the end result looks like - a rather ordinary guitar!
Anyway - here are some of the thoughts behind:
The traditional guitar body shape was first made for instruments with necks meeting bodies at twelfth fret. Later 14 fret became more or less standard and as a result, the bridges were put forward closer to the sound hole (though Martin preferred to shorten their bodies). It's a lot of talk among luthiers about "the sweet spot" where the ultimate position for the bridge should be. Many believes that this sweet spot is at the center of the lower bout.
My approach is not to move the bridge backward, but instead move the center of the lower bout forward. So the lower half of the lower bout is rounder than usual which put the widest part a bit forward. That also means that the waist is put forward and the upper bout is slightly smaller.
Otherwise are the dimensions very close to an ordinary 00-guitar. The lower bout is about 36 cm wide.
I've also spent lots of time investigating different bracing patterns. The conventional bracing with two diagonal "sound bars" doesn't make sense for me. Many modern luthiers utilizes hybrid bracings, where X-/lattice and X-/fanbracing seems to be the most common. After a lot of thinking forth and back I've decided to use the latter. I've taken more than one look at Edwinson guitars (like Franglais have done) but I've landed in a slightly simpler design, more like PRS guitars.
Other than that, I've decided to stay with the principles I've learnt in the previous builds. I'll keep things simple (but hopefully elegant) and focus on things that are structurally important. So there will be bindings, but no purflings, the rosette will be simple and designed to strengthen the sound hole. I'll stay with carbon fibre rods in the body and a floating fretboard with support from a neck extension, etc. Whith other words - Dave White will continue to be an inspiration.
Specifications:
Top - European Spruce
Back, Sides and Neck - African Mahogany (Khaya)
Fretboard and Bridge - not yet decided, either Ebony or Laburnum
Bindings - Birch
Linings - either Cedrela reversed kerfed linings or laminated Birch
Scale length - 632 mm (24.9" Martin short scale)
Many details are yet to be decided...
ps/This will be a slow build. I hope to be ready before summer, but who knows...